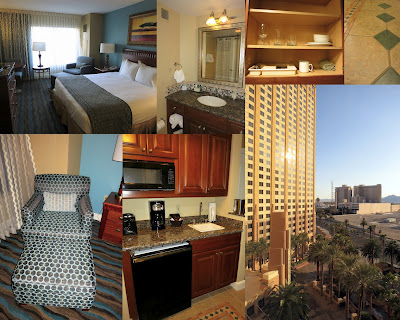 2650 Las Vegas Blvd. South
Las Vegas, NV 98109
(702) 765-8300
So I just have to say, I was so incredibly pleased with my stay at the Hilton Grand Vacations Suites on the Las Vegas Strip (herein after HGVSotLVS). It's by far the nicest Las Vegas hotel I've ever stayed in and ranks among my most favorite chain hotel stays ever.
This may be because of several attributes that may not fit with everyones ideal Vegas vacation, so lets just start there;
There's no casino.
No fancy hopping club.
No grand shows or fancy strip side attractions.
It's at the very north end of the strip, near the Stratosphere.
And there didn't appear to be any smoking in the lobby and it seemed that there were whole smoke free floors!
Still with me?
Okay, so I find all of those attributes to be positive. You see my ideal trip to Vegas includes things such as hiking at Red Rocks Canyon, visiting the Atomic Testing Museum, shopping at the outlets, and yes, seeing a Cirque show and dancing the night away. I'm not in it for the gambling, drinks served in ridiculous looking long plastic tubes, or soaking up some cancerous rays by the pool (well, okay, maybe just a little of this part). So for me, the HGVSotLVS was a great fit.
My studio room had a rockin' chair that I would totally have in my own house and the walls were painted such fun colors. The kitchenette was particularly awesome and fully loaded. It came with a toaster (which I didn't use for paranoia of gluten contamination), a fancy Cuisinart coffee maker, a large mini fridge, microwave, sink, plates & utensils, a mini dish soap bottle, and a clean towel instead of a yucky used sponge. The room also had a DVD player, flatscreen TV, a comfy bed, an in-room safe, a thermostat that worked like a charm, and a very nice bathroom.
The HGVSotLVS also had a large workout room, a fancy Vegas style pool complete with fountains, a dreamy looking spa, and very friendly staff.
So, whenever I go back to Las Vegas, I will stay here and I would totally recommend it if you don't mind missing out on the in-hotel casino and smoke filled lobby.
More posts about Las Vegas;
Where is your favorite place to stay in Las Vegas?